When the pandemic put a stop to Ellie Sampson's trip of a lifetime around East Asia, she transported herself to a dream city scape through model making. The resulting Wish List City is an intricate invitation to escape into the minute world of an imaginary city assembled in paper from layers of references – from the animated films of Studio Ghibli, to Hong Kong Airbnb listings.
The model, on display in our Shaping Space – Architectural Models Revealed exhibition, has captured the hearts and imaginations of visitors, just like her miniature commissions have captivated thousands on Instagram. We asked Ellie about her model making practice, and the methods behind the magic.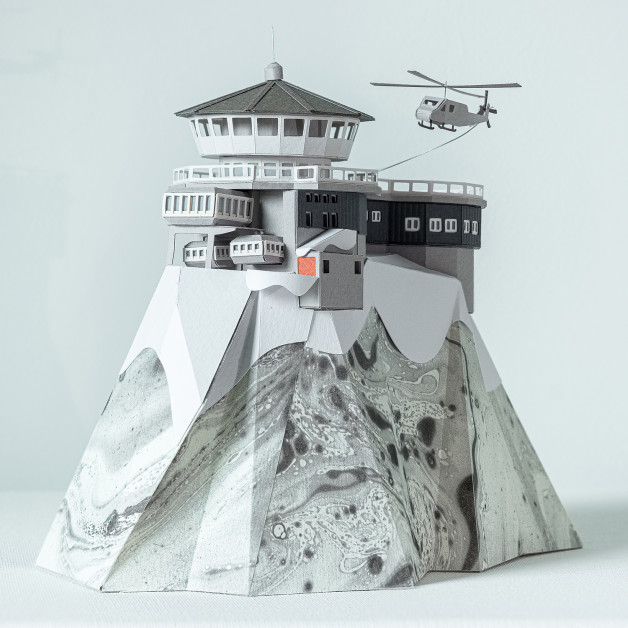 Why do you make models in paper?
As an architecture student I was encouraged to make quick sketch models out of anything and everything – paper, card, wire, wooden splints and in my case old tights or vinyl floor tiles found in the skip at the back of the Slade School of Art.
I mainly focused on casting, some 3D printing and refining my use of paper and card. The instantaneous feel of crafting something with paper was what drew me to it as a model making medium. You can slice, score, bend, sew, fold and layer up pieces to achieve the desired effect. Paper is extremely versatile. I use it to create large, monolithic and seamless forms as well as cut fragile details less than a millimetre wide – when used in different ways paper can feel either robust or delicate. It is also relatively cheap, so as a student I was able to build up a collection of papers quite quickly with different colours, textures and weights that I could re-use week after week when shaping my ideas and designs.
After university I continued to make models using paper because I really enjoy using such an adaptable medium. Practicing this making method continuously means the construction stage has a sense of fluidity – similar, I imagine, to many 'crafts' like carpentry or tailoring – you can predict how the material reacts when folded, put under stress or fastened in particular ways. Feeling a 2D net come together in different stages to become a 3D form is really satisfying. Then, aside from the practical elements, I love the idea of constructing architectural forms from something as, seemingly, 'everyday' as paper. You are preserving something durable out of a material that is so fragile and, to some, insubstantial.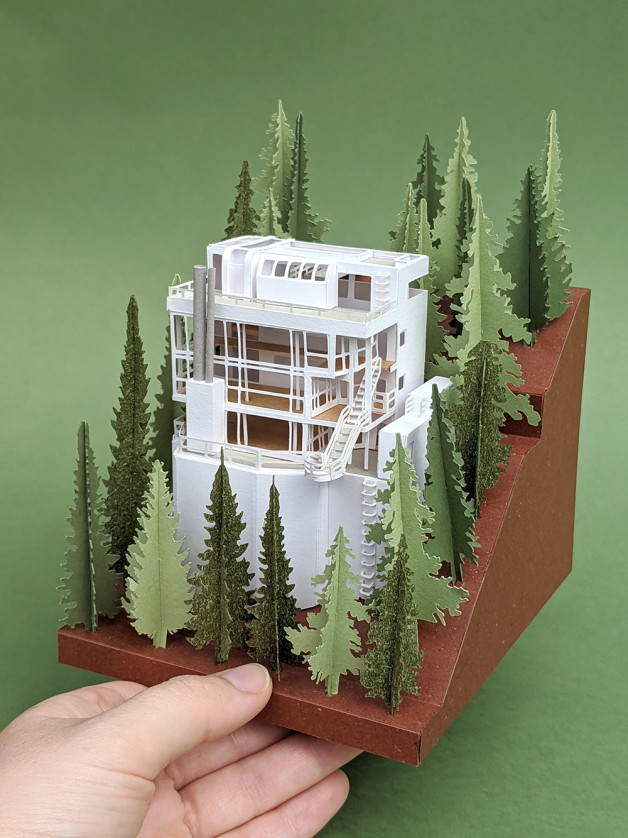 How do you make models?
There are lots of stages in my paper modelling process, but ultimately, I unpeel the layers of 3D forms digitally to piece them together again by hand. I design the models using CAD software. In architectural practice I plan the models from the drawings and designs of my colleagues, but when I'm working on personal projects I draw from a mix of references: films, comics, set design, furniture design, google earth, old archived drawings.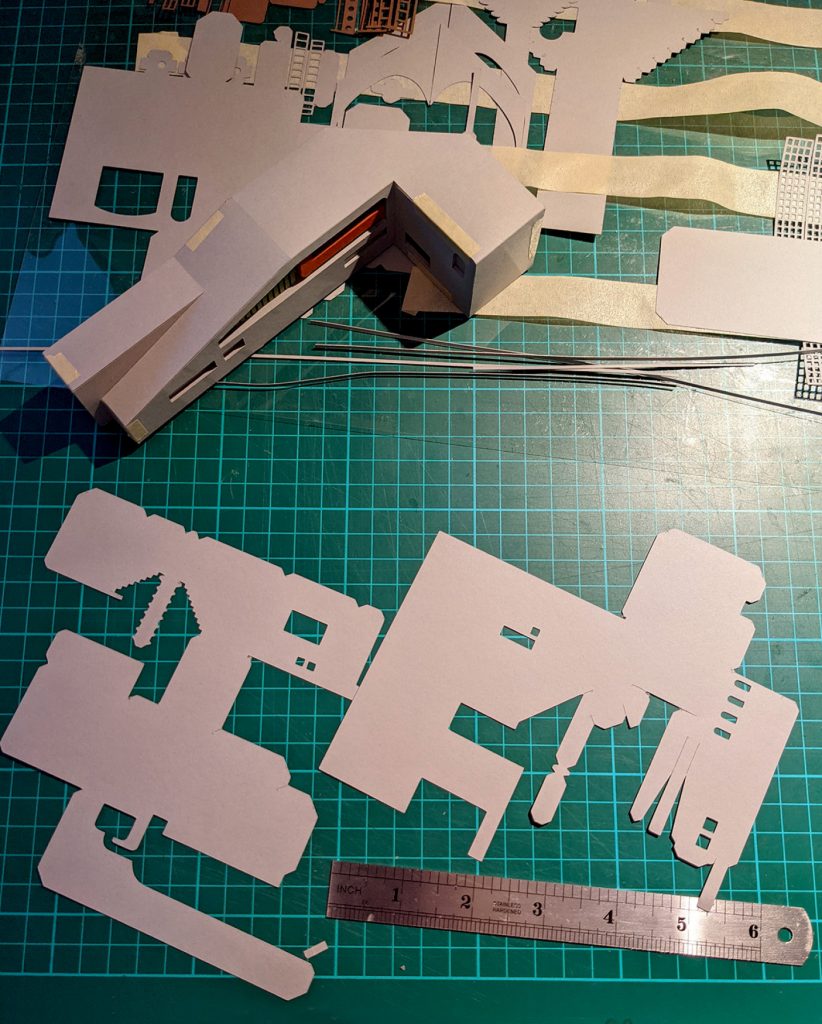 Building up the layers of detail in CAD allows me to sculpt and tweak the base forms of the model or scene. I then flatten out and design the 2D nets of all the individual pieces. After this I cut out these nets (using a vinyl cutter, laser cutter or by hand – whatever is best) and then, by hand, I assemble all the individual forms like an intricate 3D puzzle. It sounds like a long process, and often it is, but it is also a satisfying chain of digital and physical model-making.
I mainly use pastel papers as I like the weight, colour range and the slight stipple to the surface. I also search for cards with unusual patterns and textures or experiment with different tools to texture the surface myself. The glue is an important factor as you don't want an obvious seam of glue to ruin the 'illusion' that can be created by a model. I use a quick dry PVA, applying it with a glue syringe and using different types of tweezers and scalpels to manipulate the pieces into place.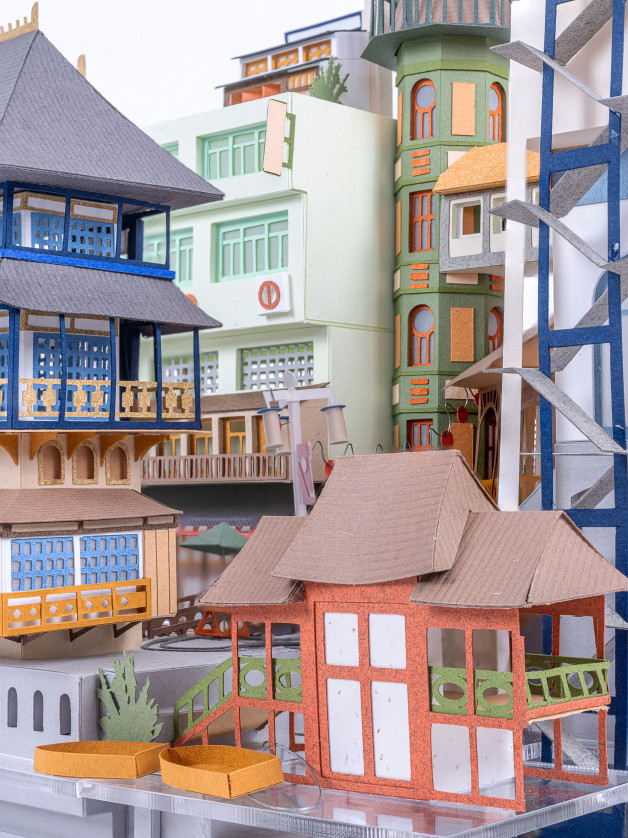 Who do you make models for?
I make architectural models at Haworth Tompkins as well as working part time on my own commissions and personal projects. The models I build in practice are used to explain schemes to clients, the public or for the teams themselves to interact with the design and test everything from a surface's texture, the play of light within a space or the proportions of a façade. I could either be building 1:5 mock-ups of a sculptural façade motif out of ply or massing options out of paper for a masterplan at 1:500.
With my personal projects, I am often commissioned by individuals or small companies to make paper models or scenes. During the first lockdown I started an ongoing project called 'mailbox miniatures'. I am commissioned to make miniature models of key places in people's lives, often their homes, but also their favourite film sets, the pub where they met their partner, their favourite buildings from a holiday or their dream home. I felt like I got a peek into these key elements of peoples lives by immortalising them in paper.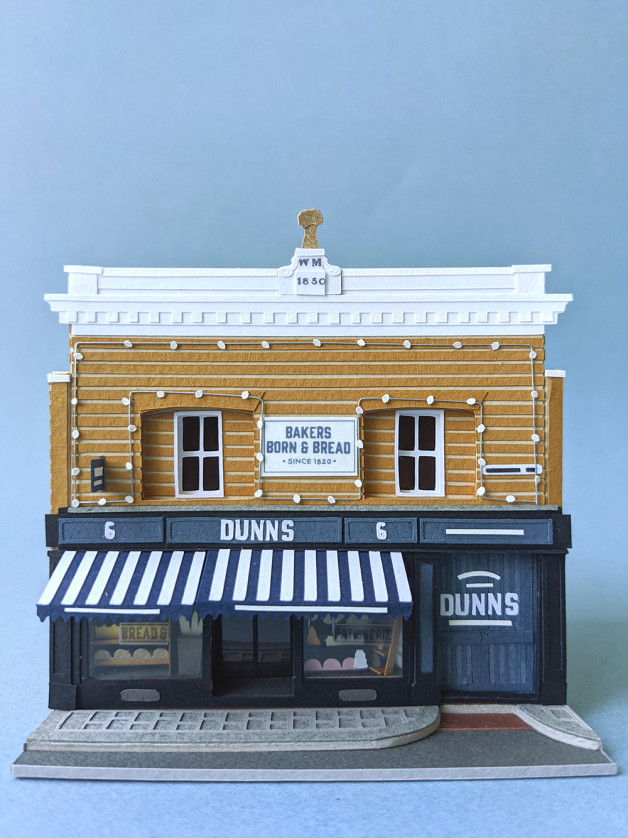 With commissions I play around and veer slightly away from realistic methods of representation. I enjoy manipulating the sense of scale – skewing elements of the scenery and creating a clearer divide between foreground and background within a composition, but I would like to push this further. I try and simplify the subject matter into a series of satisfying forms and then pick out the interesting and often relatable details I see. Whether it be the pattern of paving slabs in a cityscape or the inclusion of aerials, clothes lines or hanging baskets. I always aim to avoid stripping my models of the relatability of everyday elements.
Ellie Sampson is a model maker based in North London. She is a model maker and workshop manager at Haworth Tompkins. Sampson gives lectures and leads workshops about model making for schools and universities including; The Bartlett School of Architecture, The London School of Architecture, Oxford Brookes University, Manchester School of Architecture and Ravensbourne School of Architecture. www.elliesampson.co.uk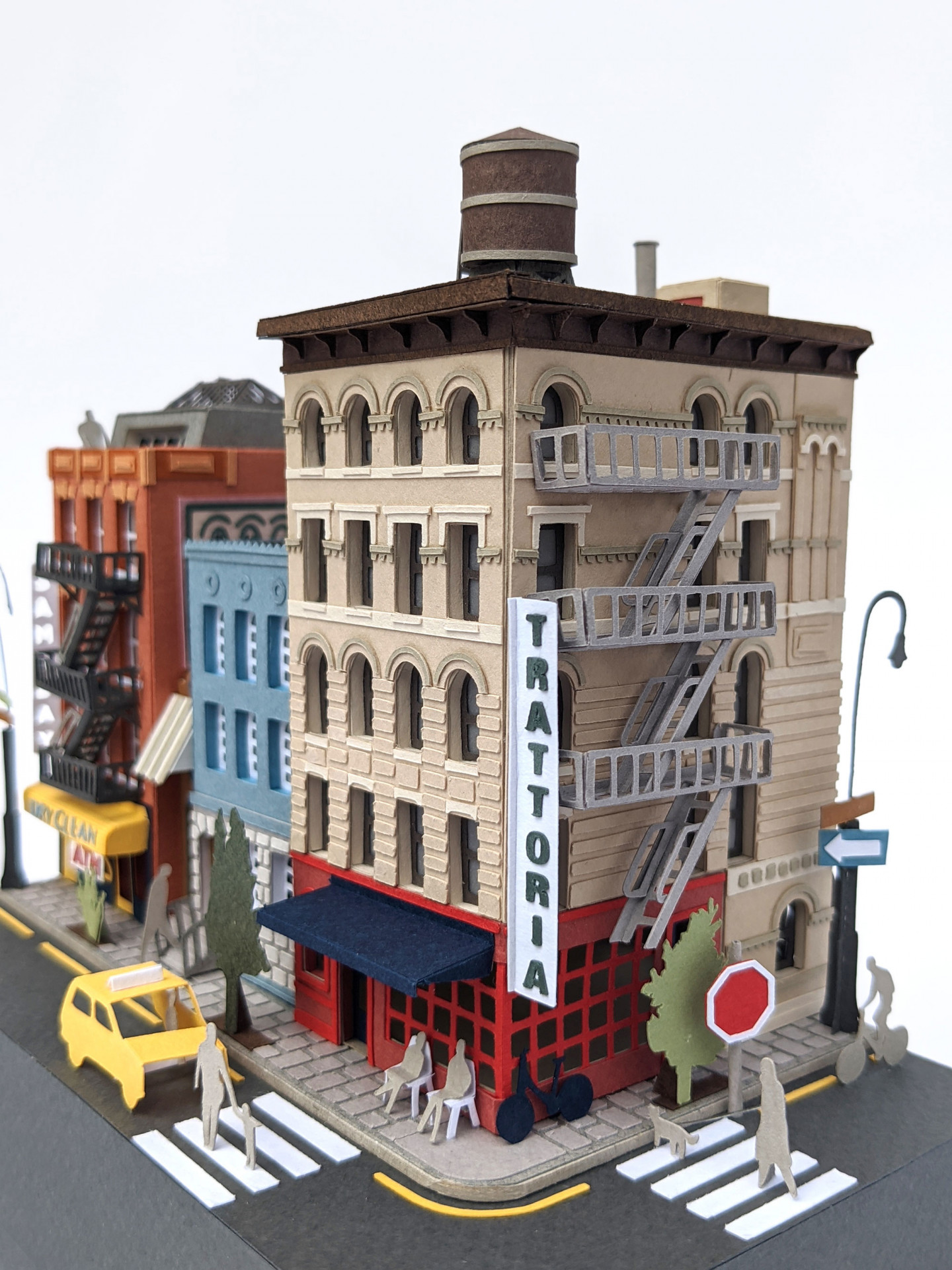 The Shaping Space – Architectural Models Revealed programme was funded by the AHRC and led by the V&A and the Building Centre.
We would like to thank our supporters; Amalgam Modelmaking, 4D Modelshop, B.15 Workshop, Drawing Matter, GHA Group, The University of Manchester, MAP Laboratory (CNRS), and Model Platform.